Audio and Web Conferencing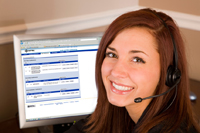 Audio and Web Conferencing (AWC) addresses dynamic communications needs by providing a feature-rich, cost effective IP-based collaboration solution for conducting highly interactive online meetings, brainstorming and training sessions, and presentations. Its audio conferencing and web presentation capabilities facilitate better collaboration among internal and external employees, business partners and customers. The browser-based interface enables users to quickly and easily schedule and conduct conference calls and share documents with any participant. AWC enables businesses to quickly bring people together, wherever they may be, so that decisions can be made faster and more effectively. It also enables organizations to reduce costs, improve workgroup collaboration and increase employee productivity.
AWC integrates with Mitel 5000 Communications Platform.
Additional Information
Audio Call Recording
Customer Interaction
Unified Communicator
Video Conferencing