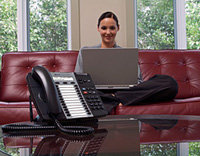 Impact Network Solutions custom designs fully functional, scalable business telephone systems with quality equipment from the most trusted brands in the market. Our business phone solutions range from traditional systems to hybrid and voice over IP (VoIP) systems. We design your telecom solution specifically to meet your needs and to grow as your business grows.
We offer IP and Digital Telephony Solutions featuring a communications platform portfolio of products that facilitate business-wide communication and collaboration, enhance workforce mobility and extend enterprise connectivity. We help you improve client services and contact management, acquire tools to manage communication overload, take advantage of a variety of sought-after applications, and reduce your total cost of ownership.
IP Telephony is the most efficient and effective way for your business to transmit voice communications over the network using open-standards-based Internet Protocol. IP Telephony provides your employees with consistent communications services in any location, whether they are in their workspace, at branch offices, working remotely, or require mobile access.
Our IP Telephony Solutions help organizations of all sizes realize greater security, resilience, and scalability using the network as the platform. Plus you get the benefits of using a converged network for transport and interconnection.
For your consideration please browse our selection of high-performance Business Phone Systems from Mitel
Additional IP & Digital Business Phone Solutions:
Business Phones
Communication Platforms
Mobility
Unified IP Communications Systems
Unified Messaging (UM) Solutions