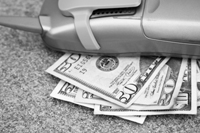 Regardless of industry, business success is always strongly correlated to the ability of attracting new partners and customers. A high-quality local and long distance call solution can dramatically improve your company's long term perspectives.
We always keep an eye on the long term and it's no surprise that we've developed a strong expertise in finding the most appropriate solutions for our customers.
Future, by its very nature, is unpredictable. This is why we never limit our solutions to specific geographical areas. Even if your company strictly deals in a single city, there's a decent probability that in the future that can change. Accounting for these unforeseen events tends to give our clients an increased level of flexibility and adaptability and, in the end, an improved bottom line.
When we analyze local and long distance call solutions we keep a variety of factors under watch. Here are a few of the most important:
Reliability
Reliability is by far the most important factor. The bells and whistles are nice, but if you don't know with absolute certainty that when you need them they'll be available, they don't really mean much. This is why we take exceptional care to only propose solutions from carriers with a spotless record and solid up-time guarantees.
Cost Transparency
Cheap can get expensive fast, if you don't know exactly the pricing and you can't access the detailed bill. More often than not, information is the key to optimizing the cost of your long distance expense and we prefer carriers who support your need for clear and detailed billing.
Competitive Pricing
Your company has distinct communication needs and the pricing must take that into account. In some cases, permanent flat rates are the best route. In others, a customized pricing scheme is advisable. One thing that we always keep in mind is the geographic structure of your business. If you have branches in different cities, it makes sense to search for solutions that offer preferential prices for communication between them. It's a balancing act and we do our best to obtain the best possible deal on your behalf.
Customized Services
There's a whole range of additional services our carriers offer that can literally make a difference for your company. Whether it is a Toll Free Number or a dedicated service for high volume customers, we don't hesitate to dig deep and exceed your business' needs in a thorough manner. We don't take shortcuts and we keep focused, so you can concentrate on what you do best.
Here at Impact Network Solutions, we never lose sight of the big picture. We integrate the long distance service with other similar services like VoIP, conferencing, data and much more. We are experts in making all the puzzle pieces fit within a smooth, flexible and affordable framework.
View our Local and Long Distance Solutions

Basic Telephone Lines for Small Businesses
High Speed Internet
SIP Trunking Service
Toll Free
VPN Solutions