High Bandwidth. High Confidence.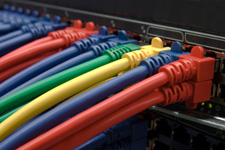 When choosing a provider for your high bandwidth services, only the best will do. Impact Network Solutions experienced team has engineered high bandwidth solutions to not only meet, but exceed, the demands of businesses like yours. It is designed it to support business critical Internet applications – like uploading payroll files, sharing data between multiple locations and connecting on-site web, email and DNS servers. You can have confidence in Impact Network Solutions Internet service because we partner with providers such as: Time Warner Cable, Quest, and Century Link.
A full range of services
Impact Network Solutions Internet services were designed to support the growing need for Internet access by businesses of all sizes. We can help you select the best connection type for your needs – all delivered on Integra's own network.
T1 – Single and bonded options available and can scale from 1.5Mb to 12Mb.
DS3 and OC-n – A wide range of speeds available – from 45Mb to 1Gb.
DSL & Broadband Internet*
With Impact Network Solutions business-class DSL and Broadband Internet services, you can relax knowing your Internet connection is secure and reliable. Enjoy the ease of surfing the Web, sending email or transferring files on a dedicated, high-speed connection. Whether you have one computer or several, DSL and Broadband Internet provide an always-on connection to the Internet.
Leave the details to us.
Impact Network Solutions network, services and Customer Care teams are uniquely designed to deliver the level of service that businesses need.
Easy installation – Impact Network Solutions will partner with you to ensure a seamless installation with minimal impact on your business.
Reliability you can trust – Impact Network Solutions national IP network provides stable, proven performance.
The speed you need* – Options available up to 25Mbps.
Business-class features – Impact Network Solutions provides on-site activation. Email, web and domain name services also available.
*DSL and Broadband Internet availability is limited and speed depends upon location, phone line qualification, computer performance, and overall Internet performance. Services may not be available in all areas. Service requires a Digital Business Line from Impact Network Solutions. To ensure compatibility, customers who plan to use DSL or Broadband Internet in conjunction with alarm service or point of sale device lines must contact their respective vendors.
Impact Network Solutions DSL and Broadband service does not include a firewall, nor is the Internet access filtered (for service type or content). All DSL and Broadband Internet customers must abide by Impact Network Solutions Acceptable Use Policy.
View our Local and Long Distance Solutions

Basic Telephone Lines for Small Businesses
High Speed Internet
SIP Trunking Service
Toll Free
VPN Solutions