Optimize Team Performance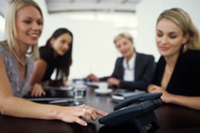 In today's complex work world, effective collaboration is a strategic must.  Workforces are geographically spread, travel budgets have been reduced and information overload is considered normal.
Our Conferencing and Collaboration solutions help you build more effective teams across corporate boundaries, companies, and continents.
Give your customers instant access to company experts. Assemble teams quickly, sharing the most relevant business information. Meet multiple customers, partners and colleagues from multiple countries on the same day — in an experience that feels like everyone is in the same room.
You can improve communications, stimulate innovation and creativity, make smarter decisions, faster, and increase your responsiveness to customers and the market.
Additional Information
Audio and Web Conferencing
Audio Call Recording
Customer Interaction
Unified Communicator
Video Conferencing