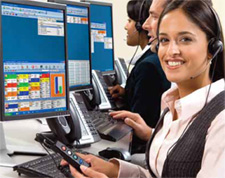 Customer Interaction Solutions helps your company meet and exceed the service level expectations of your customers, while driving employee productivity and controlling operational costs.
Drive agent and supervisor productivity, enabling your agents to handle customer inquiries quickly and efficiently and allowing managers to improve business processes
Streamline your contact center operations with technologies that seamlessly integrate with their existing infrastructure investments and deploy reliably across multiple sites.
The payoff? Service as a business differentiator, which leads to greater customer acquisition and retention; satisfied, more effective agents; and profitable relationships that leads to increased revenue.
Mitel Contact Center Solutions Enterprise Edition – for companies whose contact center is fundamentally critical to their business, Contact Center Solutions is Mitel's most fully-featured and sophisticated contact center offering. It is a scalable, resilient, and virtual solution for high performance contact centers of all sizes, across one or more locations. It delivers flexible and sophisticated ACD routing such as skills-based routing, overflow, interflow, and dial out of queue. It also offers advanced applications such as Workforce Scheduling, Flexible Reporting, and support for routing and reporting on up to seven media types.
Mitel Contact Center Solutions Business Edition – Contact Center Solutions Business Edition delivers a subset of the most popular applications found in Enterprise Edition in a cost-effective package for single-site contact centers with less than 25 agents. It delivers the same sophisticated ACD routing engine as Enterprise Edition, along with standard historical and real-time reporting, support for routing and reporting on up to two media types, agent forecasting, integrated softphone, and off-the-shelf CRM integrations.
Mitel Customer Service Manager – for entry-level contact centers or workgroups (e.g., auto dealerships, doctor's offices) that want an informal way of sharing calls amongst a team, Customer Service Manager is available exclusively on the Mitel Applications Suite, a communications solution for small and medium-sized businesses. It extends general business telephony to include hunt group and longest idle agent routing, e-mail routing, and historical and real-time reporting for up to 100 agents.
As your companies requirements evolve and grow over time you can easily and cost-effectively upgrade from Contact Center Business Edition to Contact Center Enterprise Edition.
Additional Information
Audio and Web Conferencing
Audio Call Recording
Unified Communicator
Video Conferencing