We believe you should be able to buy the messaging system you need today, and cost-effectively add applications, features and capacity as your business grows and evolves over time. From basic voicemail to advanced unified messaging and collaboration applications, Mitel offers the features you need, when you need them.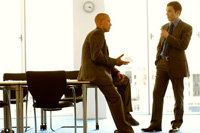 Our Messaging solutions:
Increase productivity by simplifying and streamlining communications
Improve accessibility and responsiveness by giving your users control over how, when and by whom they are reached
Make communications independent of location for mobile workers and telecommuters
Deliver carrier-grade scalability (over 100K users) and reliability at an enterprise price point
Fit seamlessly with your existing infrastructure and are easily managed to lower your total cost of ownership
If you are ready to replace your legacy voicemail system, and want a solution that will provide the same, or better features and reliability as your existing system, our Messaging solutions allow you to seamlessly add new productivity enhancing functionality as your organization evolves.
Additional IP & Digital Business Phone Solutions:
Business Phones
Communication Platforms
Mobility
Unified IP Communications Systems
Unified Messaging (UM) Solutions